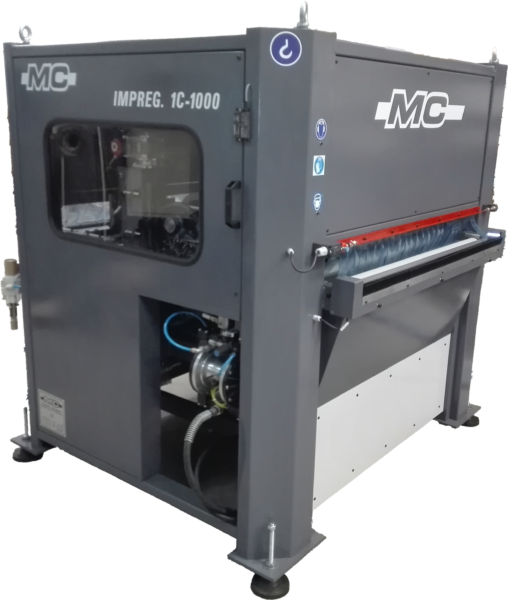 Machine for applying dyes, water-based paints and oils by means of foam roller and with product recovery.
Impregnated of panels width up to 1000mm
Description
Automatic machine controlled from a touch screen and PLC.
It incorporates two containers in stainless steel for the impregnation stations.
Transport with a PVC roller station at the entrance of the machine and stainless steel discs at the exit.
Thanks to the recovery of the product, allows to economise to a great extent the productive processes.
TECHNICAL DATA:
DIMENSIONS:
Length: 1.550 mm
Width: 1.690 mm
Height:  1.600 mm
MACHINE POSITIONING: AUTOMATIC
TRANSPORT SPEED: 2A 14 m/min
APPLICATOR ROLLER SPEED: INVERTER
EXTENDED ROLLER SPEED: INVERTER
WORKING WIDTH:  1000 mm
WORKING HEIGHT: 100 mm
POWER: 3.5 Kw
VOLTAGE: 400 V 3 Phases, neutral and ground
WEIGHT: 1.100 Kg