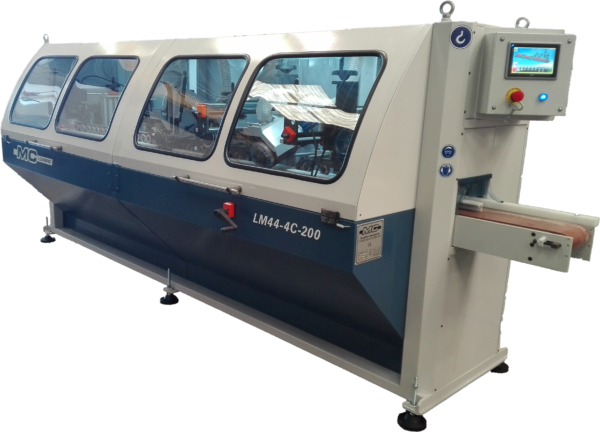 Destined for three- or four-sided sanding.
For sanding moldings, galces, flashing, parquet, window frames etc.
Description
Machine control by touch screen.
Control revolutions by inverter.
Inverter advance control.
Sanding pressure control.
Independent manual displayed with analog indicator.
Inclination of all sanding motors.
TECHNICAL DATA:
 DIMENSIONS:
Length:  4.300 mm
Width:   1.400 mm
Height:       1.800 mm
MACHINE CONTROL:  Manual
TRANSPORT SPEED: 2 a 40 m/min.
ROLLER SPEED: 100 a 1400 rpm:
WORKING WIDTH: 200 o 300mm
WORKING HEIGHT:  4 a 120mm
VOLTAGE: 400 V 3 PHASE / NEUTRAL + GROUND
POWER: 6,5 Kw
WEIGHT:  1.800 kg