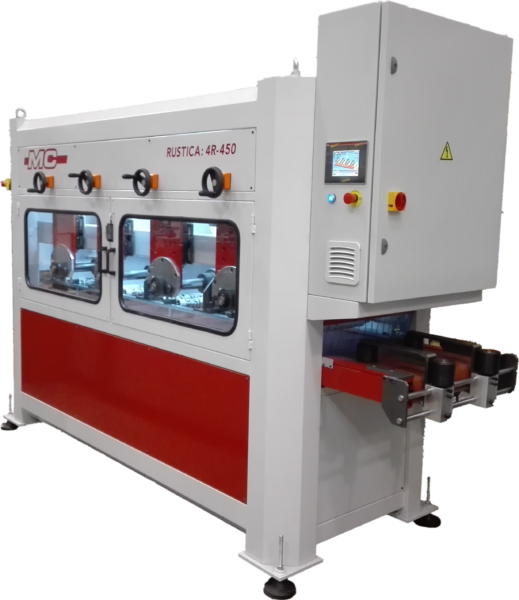 Machine for structuring parquet, decks, wall coverings and beams or scratching synthetic wood.
Description
It composed of four groups of structuring, roller pressure and conveyor.
Automatic positioning of the clamps.
Manual positioning rollers
Roller speed control.
Inverter adjustable conveyor.
TECHNICAL DATA:
DIMENSIONS:
Length: 3.250mm
Width:: 1.055
Height: 2.150mm
MACHINE CONTROL: AUTOMATIC AND MANUAL
TRANSPORT SPEED: 1 a 13 m/min
ROLLER n.1 SPEED: 50 a 1000 Rpm
ROLLER n.2 SPEED 50 a 1000 Rpm
VELOCIDAD RODILLO 3: 50 a 1000 Rpm
VELOCIDAD RODILLO 4:
WORKING WIDTH:: 450mm
WORKING HEIGHT:  4 a 120 mm
VOLTAGE: 400 V three phases, neutral and ground.
POWER: 18 kW
WEIGHT:  1.650 Kg