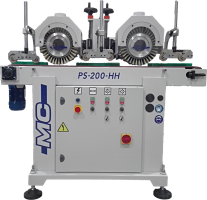 Manual sander equipped with conveyor and two sanding stations.
For sanding furniture components and all types of edges with a maximum width of 200 mm.
Description
Speed control of rotation and of the conveyor by means of inverter and controlled by touch screen, or manual control.
Allows mounting of drum of D 180 - 240 Flex-trim of 200 mm disc of D. 180 mm. Adjustable pressure rollers.
Suitable as a standalone machine or as part of a line.
TECHNICAL DATA:
DIMENSIONS:
Length: 1.400mm
Width: 750mm
Height: 1.400mm
MACHINE CONTROL: MANUAL
TRANSPORT SPEED: 2 A 14 M/min
VELOCIDAD RODILLO: 50 A 650 Rpm
CABEZALES: 2 ORINTABLES
VOLTAGE: 230 V
POWER: 2Kw
WEIGHT: 200 Kg