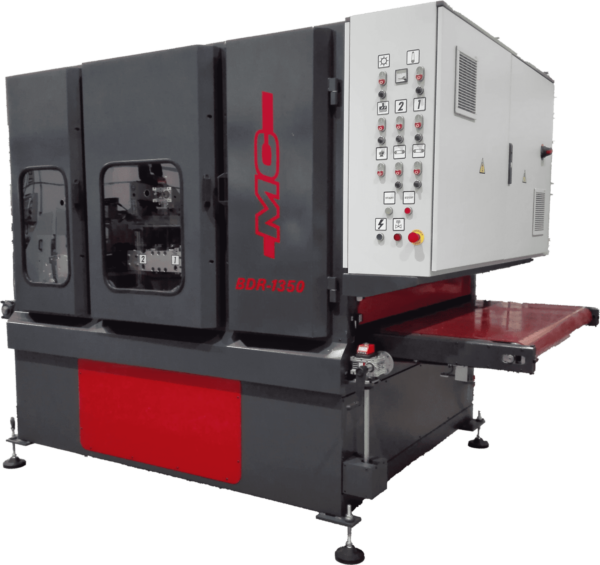 Machine designed for sanding metal with a useful width of 1350mm and fixed bed.
Intended for sanding, deburring, rounding off edges, removal of oxides and slag from parts cut by laser, plasma cutting and stamping.
Description
Machine made in a very robust and fully faired tubular structure.
It is equipped with a wide sanding belt group, a group of oscillating discs and a final roller group that provides an excellent surface finish.
The handling of the machine is carried out by a very simple control panel, being very easy to handle.
The machine has a fixed bed, it can be placed in line with other machines.
TECHNICAL DATA
DIMENSIONS:
Length: 3.100mm
Width: 1.990mm
Height: 2.150mm
MACHINE CONTROL: Manual keypads
SPEED CONVEYOR:1 a 14 m/min
SPEED SANDING BELT 15m/s
SPEED GROUP DISCS: 750 Rpm
OSCILACION GROUP DISCS: Yes with adjustment
SPEED GROUP ROLLER: 1000 rpm
VACUUM: Optional
WORKING WIDTH: 1350mm
WORKING HEIGHT: 100mm
VOLTAGE: 400V three phase + neutral + ground
POWER: 19 Kw
WEIGHT: 3.200 Kg.
ASPIRATION:4X Ø150mm